the sunday currently, volume 61.
good morning, from the back corner table at starbucks
Good morning! It's currently 10:35 a.m. on Sunday morning, & I am sitting in the back corner at my favorite Starbucks, hopefully about to really get some work done. I have been to this Starbucks every day this week - to work on things - & I'm starting to think people may be wondering if I live here. It's such an atmosphere though: cool air that smells like coffee, the hum & whir of the espresso machines, conversations swirling all around me. It's definitely my element.
You may be noticing yet another blog design change. Y'all, I am being completely indecisive about this space's appearance as of late. The good news? I'm feeling more blog-inspired this week. I've been trying to trace the root of my complete blogging dry spell over the past couple of weeks, & I think the truth is that it comes down to self-doubt, lack of direction, & a yearning for perfection. All things I can fairly easily fix, if I just set my mind to it. And you know, the ending of this very challenging semester, in just a few weeks, will probably help in the way of more inspiration blossoming.
R E A D I N G
about the GI tract, the reproductive system, & pharmacology today. There are some questions I need to complete today, as well as a little presentation. Our teacher is kind enough to give us ten bonus points for a three-minute, informal presentation, so you know I am jumping on that.
W R I T I N G
a bunch of different calendars, counting down to the end of the semester, as well as all of December. There is a lot going on between then & now, that's for sure! It's so important for me to organize my thoughts & tasks down on paper. I'm just one of those people who need to see it in writing.
L I S T E N I N G
to the hustle & bustle of Starbucks, like I said in my intro. I love it in here. I hear a daughter speaking with her mom, someone dragging a wooden chair across the concrete floor, & a frappuccino being blended together. And I was about to write, "I wonder what flavor that frappuccino is?" But right at that moment, I heard the barista announce that it was a java chip. It's funny to me that I get my best work done in here - with all this noise. But I suppose it's all ambient noise, & blends together unless I'm listening for specifics.
T H I N K I N G
that soon I will be putting on my very first reader survey! This idea was born out of my desperation at being so very uninspired lately. Something that has kept me going, so to speak, is that I hate it when bloggers I love quit. I hate it when their blogs become inexplicably silent. And due to some of the sweetest comments ever, which I've been receiving lately, I feel compelled to not be one of those blogs that goes silent. I want to stay around, to share my life with people. So, that's what I'm going to do, one way or another. WOW, way to go off on a tangent there... as I was saying, I will soon be conducting my first ever reader survey, so be on the lookout for that. I'll be asking all of you to help me in deciding this space's future. So, there's that.
S M E L L I N G
delicious Starbucks coffee. Can you tell I've been loving my dear sweet Starbucks lately? Because I have. It may relieve you to know that I have been drinking house blends during this coffee bender... I haven't been consuming a sugary sweet drink each time I've frequented this shop. That would be a bit excessive, now, wouldn't it? But seriously, I have been LOVING black coffee [Blonde Roast, to be exact] with one Sugar in the Raw packet. And also, a venti ice water.
W I S H I N G
I could get into the Christmas spirit before the day after Thanksgiving, but I think I'm one of those people who just wants to build up the anticipation & wait to get into everything until after. Every once in a while - I must admit - I'll allow myself to feel a twinge of excitement at seeing a Christmas tree already up in Harris Teeter, & truth be told, I am completely smitten with the Starbucks holiday display [
as I shared on Instagram this morning
].
H O P I N G
I can keep my wits about me this week, amidst the chaos that is the end of a busy, trying semester. I like to think I did a pretty awesome job managing my stress last week, & I'm hoping for a similar situation this coming week. Let's make it happen! Positivity has become an essential in my day-to-day life recently.
W E A R I N G
workout clothing. Because I need all the encouragement I can get to make it to the gym after this morning Starbucks session comes to a close.
L O V I N G
my blog, even in its current state. Blogging is such a wonderful thing. It really is. It's a means of connection, comfort, creativity... I could go on & on. But most of all, in my experience, it's a catalogue of my life, even when it's not even trying to be. I scrolled back through the pages of this space for a lengthy amount of time last night, just remembering & reminiscing. The fact that I have something to scroll though, that is such a deliberate expression of myself over the past couple of years and some change, is a gift I've given to myself. And one that I plan to perpetuate.
W A N T I N G
to have a day of clean eating. Yesterday was 'diet cheat day,' & I'd be lying if I didn't disclose that Justin & I had frozen yogurt for dinner [mine was piled with whipped cream & Reese's Pieces... & cherries]. Since sitting here in Starbucks, I've had a toasted Everything bagel [no cream cheese], a venti ice water, & a tall Blonde Roast with one packet of Sugar in the Raw. I think I'm off to a good start! And by the way, I can't even express my elation at finally entering the world of Everything bagel lovers. I tried one for the first time a few weeks ago, & I'll never go back. They are everything [in the world of bagels, at least].
N E E D I N G
to revamp my journaling this week. A while ago, I started a bit of a gratitude journal, & that's something I'd really like to keep up.
F E E L I N G
like I'm finally getting better from being sick post-NYC trip. My lungs are aching a bit, but I think that's from the excessive amount of coughing I've been doing lately. But, also feeling wonderfully content as I tap out this post this morning.
C L I C K I N G
Twitter
&
Instagram
this morning, changing my handle back to
siddathornton
. I know, annoying, right? Sorry for the momentary change [if it affected you in any way, as silly as that sounds]. My blog was at the height of its identity crisis last week when I changed it, & I was considering a blog name change. Now I know that's not going to be the route I'm going to take, so back to
siddathornton
they go... & will long have gone, by the time you are reading this.
What are you doing? Link up & share below.
Also: want a button to add to your post or blog? Grab the code below!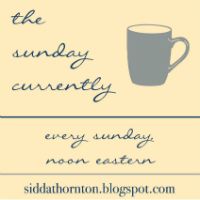 photo: taken in a bustling starbucks on sunday morning