the sunday currently, volume 62.
i had been looking forward to a pancake breakfast all week -
Well, friends, I've - yet again - changed my blog design, this time back to a sort of bare-bones approach, because every time I came to this space, I found myself getting annoyed at the design. Annoyed? Isn't that a little dramatic? Yes. It is. But I was feeling it, & I didn't like it. Thus, I basically decided to strip siddathornton of all color and/or stand-out fonts & just leave it like this until I've constructed a design I like.
As far as the designing of my own blog, I have already made strides in certain techniques, & I'm starting to get excited about what I may be able to do here. I'm not going to put any time constraints on the rolling out of the new design, because frankly, right now, time is not something I have a lot of. However, this semester will soon be coming to a close, & I will hopefully have a considerable amount of free time on my hands for a while. Thus, you may see this space get a makeover sooner rather than later. I'm taking things one day at a time, for the time being.
With all that blog talk aside, I'd like to mention that this morning, Justin & I had the most delectable breakfast. I got a huge stack of pancakes, flanked by a side of fresh strawberries, & he got a banana pecan Belgian waffle. Sunday breakfast/brunch is often our indulgent meal of the week, & this one was no exception. We are so happy to have found
Sawmill Restaurant
in our area recently. When comfort food is desired, it delivers every single time. We're already smitten, & we can't wait to share this find with our Thanksgiving guests!
R E A D I N G
the Harry Potter series with my mom, as soon as the semester comes to a close. She has never read this amazing collection of books before, & I am so excited that she is about to embark on this journey. We plan to have book club meetings via Skype/FaceTime, so that's going to make it even more fun. Just one more reason to greet the end of the semester - coming in a couple short weeks - with open arms.
W R I T I N G
in one of my two brand new composition books soon. I found the CUTEST ones at Walmart, in both houndstooth & black & white polka dots. I'm a sucker for a nice composition book. They are my favorites.
L I S T E N I N G
to the whir of the ceiling fan, as well as the clatter of Justin tidying up while I get this post quickly busted out. We have guests coming tomorrow evening, so we are working to get the house in its best condition so they will enjoy their stay with us.
T H I N K I N G
that this morning was wonderful. Productivity & pancakes, does it get much better than that?
S M E L L I N G
our oven. We put it through a four-hour self-clean cycle last night, & there is still a bit of an indiscriminate burnt smell hanging in the air.
W I S H I N G
I was slightly more energetic. There is much, much to be done, & the fact that I've been dragging a bit for the last few days in definitely not a good thing. Making a mental note to meditate on that before bed tonight.
H O P I N G
all of my assignments & studying come together over the next couple of weeks. I want to finish this semester strong.
W E A R I N G
stretchy black pants, a gray t-shirt, & one of my favorite knit scarves. My parents gave it to me for Christmas a few years ago. It's pastel purple, pink, & mint, & it's undeniably cozy.
L O V I N G
my husband & all that he does for me.
W A N T I N G
us to keep up our Pilates streak. I love cardio & weight training, but Pilates adds that extra oomph into my workout. It makes me stand taller, breath deeper, & feel better.
N E E D I N G
to stay centered through the next few weeks. Aside from finishing up this semester, we will also be trekking over to Nashville so that Justin can attend a conference, then we'll be hometown-bound for two weeks of Christmas-Break-Bliss.
F E E L I N G
empowered & ready to take on the week, making it one of both productivity & thankfulness.
What are you doing? Link up & share below.
Also: want a button to add to your post or blog? Grab the code below!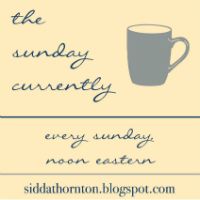 this week's posts:
the sunday currently, volume 61.
savannah snapshot: the mulberry inn.
friday's fancies #73: black friday brunch + blogging.