the sunday currently, volume 67.
Merry Post-Christmas & Happy-Almost-New-Year! I'm sorry for the late post today, folks. Since we have arrived in Shreveport, I've been sick, & we have been trying to get together with people & do everything we want to do while we're here. Luckily, I'm feeling much more myself today. I hope you all are having a lovely holiday, surrounded by family & friends.
R E A D I N G
Harry Potter & the Sorcerer's Stone
, as well as Harry Potter & History, which my sister got me for Christmas.
W R I T I N G
nothing at all in my Composition books since I arrived here in Shreveport. We've been busy!
L I S T E N I N G
to Justin chatting with me as I type this post out.
T H I N K I N G
that I'm really glad that my illness is almost gone. I've been sick since we arrived in Shreveport.
S M E L L I N G
nothing at the moment.
W I S H I N G
it was still Christmas, & that 17 days in Shreveport was more like two months.
H O P I N G
I'm completely better by tomorrow.
W E A R I N G
a sad face that Christmas is over. Luckily, my parents leave their Christmas tree up until the first of the year.
L O V I N G
that we are in Shreveport!
F E E L I N G
so, so much better.
What are you doing? Link up & share below.
Also: want a button to add to your post or blog? Grab the code below!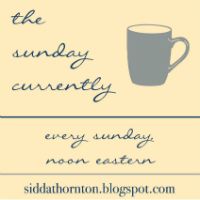 this week's posts:
the sunday currently, volume 66.
we're in shreveport!
shreveport snapshot: christmas at the ontario house.
just a little snippet.
shreveport snapshot: the girlies.