miscellany monday: christmas currents.
reading
... well, i just finished
imperfect birds
, by anne lamott. one day this week, on my lunch break, i'm going to stop in at the library to check out another book from
my winter list
. i'm thinking i may read
the good earth
next. i really ended up enjoying my first anne lamott book.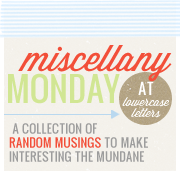 writing
blog posts for the coming weeks. i'm going to be so busy! i'm also writing a guest post for one of my favorite blogs, which i'm really excited about. i have a lot of writing to do, but i always enjoy it.
listening to my kinston playlist. i'm in love with everything on it.
thinking of everything i need to do this week, & making mental notes. i'm going to make one gigantic schedule, point-by-point, later today. i love christmas shopping, so i'm looking forward to it... i'm just wondering (as i do every year) why i've waited until the last minute.
smelling
nothing. the sinuses have been on the fritz lately. i guess it comes with the season.
wishing
there were 48 hours in each day. i'd get so much more completed!
hoping
justin has safe travels later this week - i absolutely CANNOT wait to see him.
wearing
a red christmas scarf! and the coziest sweater i could find in my mom's closet. i'm going to be in big trouble when i move... i wear my mom's clothes to work almost every day. but, i guess this means a justified shopping spree is on the horizon?
loving
the christmas season, the prospect of being with family, the fact that justin will be in town this week, & the feeling i know i'll have when i've completed everything this week has in store for me.
wanting
to go to the gym. in this holiday whirlwind, it has felt seemingly impossible to get on the treadmill. i'm hoping to change that this week. and i will possibly be going on some outside runs this week as well - i've really missed that.
needing
to remember to take time out this week to appreciate the holiday season. we have control over how frazzled & stressed we become - i'm going to make a conscious effort this week to really stop & look around me. there is so much to be thankful for.