after delays upon delays and an impromptu sleepover in DFW...
it's official: i've finally made it home to kinston. now, on to the link-up!
for as long as i've been blogging, i've been admiring link-ups, both from afar, as well as by participating in some of them nearly every week. i've long been wanting to create a little link-up of my own, but i have been completely stumped as to the material on which i'd want to capitalize. thanks to justin's encouraging suggestions, i have decided to launch critique cache: a monthly book & music review link-up.
on the first wednesday of every month, i will be posting a review of either a book i've read in the previous month, or an album, song, or particular artist i've been listening to non-stop.
i invite you to join in this little link-up - it will be an exceptional way to discover new literature, as well as music, that you may want to experience. as someone who is constantly searching for a new book to dig in to, or a new album to blast as i kill 30 minutes on the elliptical, i appreciate all the help i can get in this department!
here's how to participate:
write a post about a book, book series, article, musician, album, or song.
link up over here on siddathornton on the first wednesday of each month.
bonus! feel free to include this button in the body of your post, or as a permanent resident in your sidebar!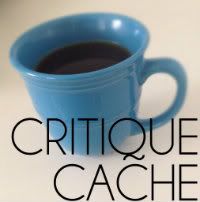 i know this link-up will probably start off slow, but i'm in it for the long-haul. i hope it will serve as a means of inspiration to get out there & experience the ever-changing world of books & music, as that very aspect of culture is a huge passion of mine. yep, that's right - i'm a book & music nerd!
thank you all for your endless support & love.
now, let's get to this month's review:
as i am sitting here in the airport, reflecting on my fifty shades experience, i realize i am feeling very similarly to the way i felt upon finishing the twilight saga. that is to say, i am feeling a bit of a lack in purpose.

i find this happens often with series: i have three, may four (maybe seven, if we're talking harry potter) books looming ahead of me, with the promise of a satisfying & intriguing tale to be told. it motivates me in a way i can't describe: with each page that's chipped away, i'm brought closer to having another book series, another whole story, under my belt. and with every volume completed comes a satisfactory trip to the book store, a field trip to pick up the next one - i even get a little thrill in being viewed as a series nerd.


but, i digress.

as i said, i felt a lot like i did when i finished the twilight saga, when i finished the fifty shades trilogy - only the effect was not as strong. i am aware now that these stories began as twilight fan fiction - in fact, it is glaringly obvious as you're reading. the parallels between edward cullen & christian grey are stark & telling - they are basically the same person, only one of them is an emotionally wounded vampire, & the other is an emotionally wounded gazillionaire who's into bdsm. i'm not saying they're not intriguing characters, i'm just saying they are virtually indistinguishable. to me, this weakens fifty's shades' credibility.

in the same vein, bella swan & anastasia steele are nearly identical, save their ages. while twilight begins in bella's high school years, fifty shades begins during anastasia's senior year of college. need i call attention to the fact that both female leads have longer names, the shorter counterparts of which they prefer to be called? [isabella prefers bella, & anastasia prefers ana]. i know - this is splitting hairs.

it started as fan fiction, lauren! that's why there are so many glaring similarities!,

i keep having to tell myself. but i just wish el james, perhaps in her refinement of her story as it was prepared for print, would have changed some of the twilight copy-cat items - i just feel it would have validated the books more, allowing them to stand alone - you know, to be their own thing.

ok, now let's talk about the sexual nature of the book. by now you'll know, this series is classified as erotic fiction. i have heard all levels of reaction to this aspect of the book, ranging from it's evil to it's not bad at all - barely even noticed it! i don't agree with either of those assessments. is this something an 18-year-old won't be able to get through, because they're too embarrassed? no. is this something you'd want to read aloud to the kids you're babysitting? NO. is this something you'd want to listen to as a book on tape? double no. true, parts are blush-worthy, but we're all adults here, right? that's really all there is to say on the matter. just man up if you're planning to read it.

lastly, i have to say some of the literary devices employed in this story are used a bit... rudimentarily. we see two recurring characters, ana's inner goddess & her subconscious. while these elements add a touch of humor to the book, their over-use feels a bit tired, leading the readers to feel disconnected, rather than connected.

similarly, the language & usage leaves a bit to be desired. i found myself cringing over the sugary-sweetness, & the trite nature of their conversations, rather than over the inappropriate parts.
overall, i thought this series was a very quick, suspensful read. as mentioned above, however, some of the literary devices were crudely used, leaving the reader wondering at their effectiveness. don't let my seemingly scathing review fool you, though... i went running to the book store with the rest of them. for this reason, i've decided on the following grade:
what have you been enjoying this month?
do you agree with my assessment of the fifty shades triology?
[yikes - since my
linky tools
subscription expired, i lost my link-ups. i'm now a member of
simply linked
, & i don't think this will happen again. sorry for any inconvenience.]