miscellany monday #1.
today i'm linking up with
lowercase letters
for the first time & taking part in miscellany monday!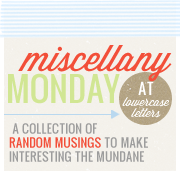 1. one of my 'night
owl
nights' last week (you know, the 'school night' that i stayed up til almost 4 a.m.) yielded a list of things i want that are
owl
city-related. it's no secret (since i tweeted it) that
adam young
is, by far, my favorite person to follow on twitter. he's funny, he's witty, he's relevant... he likes taylor swift. what's not to love, right? oh, & i really like his songs. here are the things that i want:
i reallllyyyyyy want that hoodie.
2. this weekend was one that i really liked. friday, justin & i headed out on the town with some of our friends for one of their birthdays. it was a lot of fun until
luke wilson made me cry
(yep, it's going to be a while before i let that one go, guys). anyways, after the fun of friday night, we met back up with everyone for lunch at
imperial cathay
, one of those places i never think to go, but
love
. i am all over some chinese food.
3. after chowing down, the group headed over to
pretty much the oldest movie theater in shreveport bossier
to view
friends with benefits
. i had already seen this when kara & i visited jordan & jim in frisco this july, but i was happy to go again, because seriously... this is one of the best movies i've seen in a long time. justin timberlake is dorky & lovable. mila kunis is hot & charming. one of the best rom-coms i've seen since the
just friends
/
how to lose a guy in 10 days
era. and that's saying something.
4. it's GRE studying time. i really hunkered down in barnes & noble last night, after putting it off all weekend. today after work, i will be there til closing time, taking practice tests & reading about how to analyze passages. i've got to pump up that verbal score, especially if i decide to go in the creative writing direction.
5. i have been
loving
pinterest
lately. it's been my source of inspiration, ranging from creative home decor, to food that makes my mouth water before 10 a.m., to cozy fall fashion, & everything in between. and in light of this pinterest obsession, my love affair with grey + yellow is pretty hard to deny.
i hope everyone is having a lovely monday. this little link-up has definitely brightened mine!