miscellany monday #6: currently.
currently...
reading pride & prejudice. i haven't read it since high school, & i'm falling in love with it all over again. it feels different this time, though... kind of like when you watch a childhood movie as an adult, & you discover things you never noticed before. yes, i'm loving this process too. this selection is for our november book club meeting, which i will be hosting & need to start planning - i'm excited!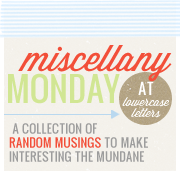 writing
letters. and everything besides what i am supposed to be writing. i really need to work on my grad school application. that is a big goal for this week.

thinking about all the upcoming events i have to look forward to... friend dinner, breaking dawn with the future in-laws, and finally seeing my long lost love, anna claire. also, upcoming road trips: jackson this weekend & white castle/baton rouge next weekend!
smelling
coffee, christmas in the form of scentsy, & my birthday perfume, benefit's
my place or yours gina
. needless to say, all delicious smells.
wishing
for things unsaid.
hoping
that justin's first day of work (today) goes well. and to get all of my workouts in this week, as well as to finish a christmas project.
wearing
my engagement ring, because it finally returned from getting sized, on friday. i haven't been able to stop looking at it. i love it. and my new eggplant sweater, which i am also wearing today. also, new eye shadow (a dupe for the too faced
natural eye palette
). and a revlon lip butter in
raspberry pie
.
loving
all of the people in my life.
wanting
sushi.
needing
to relax. i believe the source of a lot of my problems right now is stress... & that should be completely avoidable & manageable... but unfortunately i do NOT handle stress well.