currently...
reading
pride & prejudice, still. must finish this week. then, it's on to my lovely winter book list, which will be posted at the beginning of december.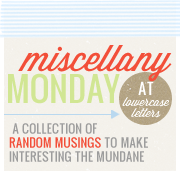 writing
exciting emails, post-it lists, blog posts for this week, love letters in my head.
listening
to the beginnings of my christmas/winter compilation. i love mix tapes & i have some really exciting new music.
thinking
about thanksgiving & christmas gifts.
smelling
the familiar smell of my office - so happy to be back in here with lindsey after two weeks up in the front office.
wishing
for some creative inspiration & the drive to put it all in motion.
hoping
for safe travels for all over the holidays.
wearing
my mom's scarf. my great-aunt's necklace. a new makeup look that i'm in love with.
loving
the
holiday feeling
. that i've started gossip girl over from the beginning & all of it is on netflix. all that i have to look forward to in the coming year. all of the projects i have on my plate. that it's a three-day week & thanksgiving is about to happen. that i'm visiting my wedding venue on saturday. that i'm seeing a long lost best friend at said wedding venue. all-day text message sessions with justin. i love a
lot
right now.
wanting
to get a lot done this week, especially in the way of working out. and in the way of gift-making. and writing. lofty goals.
needing
to pray. while praying in church yesterday, a great peace descended over me. giving everything over to god is something in which i take great solace. very much-needed during this exhilirating & somewhat stressful time of year.